Austin Sign Language School (ASLS), incorporated in 1977 by the late Fran Herrington-Borre, is a non-profit organization which offers quality sign language instruction for adult students, ages 14 and above, in Austin, Texas. NO CHILDREN'S CLASSES ARE AVAILABLE.
Areas of sign language instruction include Fingerspelling, Manual Communication, Conceptually Accurate Signed English (CASE), American Sign Language (ASL), Contact Sign, Interpreter Training, and Deaf Culture. Classes are beginning to advanced but ASLS does not have an interpreter training program. Our courses are not accredited, and we do not issue transcripts. .
General Announcements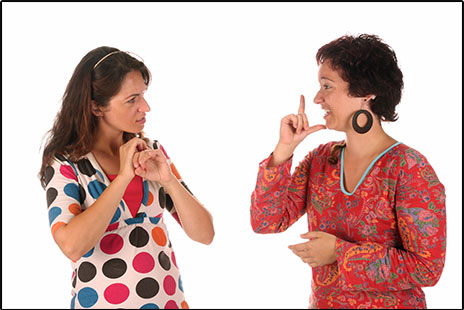 2015 Classes
Spring 2015
Tuesdays, NW Austin: January 6-March 10, 2015
Thursdays, South TSD: January 8-March 12, 2015
5:30 and 7:15 p.m. classes for 10 weeks
Summer 2015
Thursdays, South TSD: June 11-July 30, 2015
6:00-8:00 p.m. classes for 8 weeks
Fall 2015
Dates to be determined
SUMMER 2015 INFORMATION
Summer Registration begins March 16, 2015
Tuition $130
Credit cards accepted for on-line registrations.
Summer 2015 Classes
Thursday Nights–South Austin
Texas School for the Deaf (TSD)
June 11 – July 30, 2015
6:00-8:00 p.m.
101
201
301
401*
601*

CANCELLED


1301* ** is on-line only
*Course contingent on having enough enrolled and pre-paid students.
**DARS Interpreter CEUs approved
---
Enter TSD through the Elizabeth Street gate after 5:30 p.m.    Click here for map of TSD.
Summer classes meet at TSD for 8 weeks on Thursday nights, beginning June 11, 2015 with specific courses from 6:00-8:00 p.m.
No Summer classes are offered at Westover. Fall classes will be held there on Tuesday nights, beginning in September. More information will be available by early August 2015.
COST AND REGISTRATION

The cost is $130.00 per student per course. ($5.00 discount for second family member taking a course during a semester).
Pre-registration for ASLS classes is required. To pre-register, register on-line or send registration form and fee at least one week prior to first class session. Course Offerings depend on number of registrations received for each course. Click here for registration.Austin Sign Language School is a 501(c)(3) non-profit organization. We welcome all interested students, regardless of race, religion, creed, age or disability.